To listen to the Audio tracks, download Quick Time for Mac here
or download Quick Time for PC here.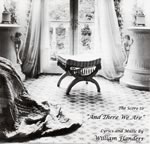 Based on Henry James' The Ambassadors, this is a story of Lambert Strether, a middle-aged American widower, who is sent to Paris to bring back his employer's prodigal son, Chad. Eagerly entering Chad's world, he finds himself emotionally over his head due to the charms and challenges of three independent women.


This CD includes an extensive synopsis of the story. It is possible to get a feel for the movement of the plot by listening to excerpts from eight of the twenty songs in the score.
To order CD, click here.
| | | |
| --- | --- | --- |
| 1. | | Act One Overture |
| 2. | | A Woman of the World |
| 3. | | |
| 4. | | You Are Excitement to Me |
| 5. | | |
| 6. | | |
| 7. | | Live! |
| 8. | | Tell Her that I've Been Good for Him |
| 9. | | The French Style |
| 10. | | Love Is A Waltz |
| 11. | | |
| 12. | | Act Two Overture |
| 13. | | Call Him Magnificent! |
| 14. | | |
| 15. | | La Fille de la Reine |
| 16. | | How Much She Cares! |
| 17. | | |
| 18. | | Then Summer's Gone |
| 19. | | We Might Have Been Friends |
| 20. | | |
Words and Music by William Flanders, ASCAP