To listen to the Audio tracks, download Quick Time for Mac here
or download Quick Time for PC here.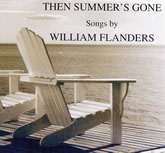 Selected Songs: 1968 to 1981
These songs were selected for this CD to be sent in thanks to family and friends in 2003. Half had been recorded at home with a simple guitar in the mid-90s. And half were taken off two LPs: the first three of these from Love Is A Verb, recorded in 1968, and the rest from Coming Home, recorded in 1973. These ten add the lovely and lively lead guitar of Dave Parker.
| | | |
| --- | --- | --- |
| 1. | | Love Is A Verb |
| 2. | | I Was Born To Be Me |
| 3. | | |
| 4. | | |
| 5. | | And Nothing To Say |
| 6. | | You Can't Be The Baker (if the bread don't rise) |
| 7. | | If The Lady Were A Lady |
| 8. | | Sing Me A Carol |
| 9. | | |
| 10. | | Sarah's Gift |
| 11. | | |
| 12. | | Bermuda Cove |
| 13. | | Ton Ton Pierre |
| 14. | | Op'ra Italian Style |
| 15. | | The No Bra Look |
| 16. | | |
| 17. | | When We Were Young |
| 18. | | |
| 19. | | |
| 20. | | Then Summer's Gone |
Words and Music by William Flanders, ASCAP